Your iPhone and the apps that you install are probably using your location in a lot of different ways.
Some apps like Maps rely on your location in a very obvious way, and won't really be very useful if they can't access that data.
But other apps may not really need your location, and you might prefer to simply turn it off completely on your device.
Our guide below will show you how to turn off the iPhone 13's location services feature.
How to Disable iPhone 13 Location Services
Open Settings.
Select Privacy.
Touch Location Services.
Tap the Location Services button.
Choose Turn Off to confirm.
Our guide continues below with additional information about how ot turn off location services on an iPhone 13, including pictures of these steps.
If you have ever seen the little arrow icon at the top of your iPhone screen, then you noticed your iPhone letting you know that an app was using your location.
This could be something like a delivery app that wants to see where you are in case you decide to order something, or it could be Uber trying to figure out how long it will take for a driver to get to you.
Regardless of the service or app that is using your location, it is something that you can adjust if you would like.
Many people don't like to share their private information with large companies, and the location data that your iPhone provides is something you might prefer not to use.
Luckily you can follow the steps in our tutorial below and completely turn off location services on your iPhone 13.
How to Stop Your iPhone from Using Your Location (Guide with Pictures)
The steps in this article were performed on an iPhone 13 in the iOS 15.6.1 operating system, but will also work for other iPhone models that are using iOS 15.
Step 1: Touch the gray Settings icon on your Home screen.
Step 2: Scroll down and choose the Privacy option.
Step 3: Select Location Services at the top of the screen.
If you've never changed this setting before, then it probably says "On" next to it.
Step 4: Tap the switch to the right of Location Services to turn it off.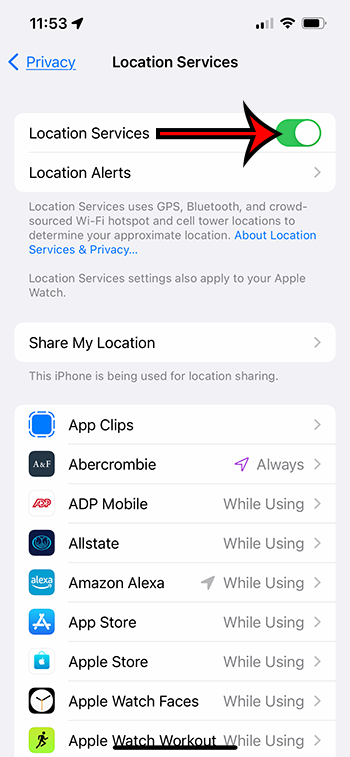 Step 5: Select Turn Off at the bottom of the screen ot confirm this change.
Now that you know how to turn off Location Services on your iPhone 13 you will be able to use this menu to customize the settings for the apps that can use your device location.
More Information About iPhone 13 Location Settings
the section above provided you with the means to disable Location Services completely.
However, you probably noticed that all of your apps were listed on that same screen. if you still want some of your apps to be able to use location data, then you can simply adjust the setting on a per-app basis instead.
You can do this by going back to Settings > Privacy > Location Services > then selecting an app and choosing from one of the available options.
If you don't want an app to use your location, then you would choose the Never option.
Note that if you do decide to turn off location services entirely that it can turn back on if you have the "Find My" service enabled for your Apple ID and you put the device in "lost" mode.
Dave Reynolds is a freelance writer from Union County, FL that specializes in technology tutorials. He has been writing online for years and enjoys helping people figure out problems they are having with devices or software.